Best Madison Deck Builders
Quality Deck Building Company in Madison, WI
3rd Gen Deck Builders in Madison, WI is a top-rated deck building company that specializes in building and installing composite decks, custom wood decks, sunrooms, and pergolas.
With hundreds of happy clients nearby, we are Madison's favorite decking installation and deck building service.
Call (608) 690-7323 today to get your free estimate!
Our Madison deck builders are award-winning experts that use only the highest quality materials to create your next outdoor oasis. 3rd Gen's skilled decking professionals are known for their exceptional customer service and eye for detail.
We will guide you through the design process, help you choose the best decking materials, and build a quality deck that lasts. From composite decking to wooden decks, 3rd Gen is the premier deck building company in Madison, Wisconsin.
Madison Deck Builder Reviews
Custom Deck Building Review Fitchburg, WI

"Product quality and workmanship is excellent. I had a two level deck replaced and the workers went over it every step of the way. The owner, Matt, responded to all my questions within a day, sometimes within an hour. I've done a lot of remodeling and have never had that level of customer service."

-Donna Read 5/21/20
Composite Decking Project In Madison, WI

"3rd Gen removed our wooden deck, and replaced it with a larger composite deck and pergola. They were responsive, guided us toward the look we wanted, and built a beautiful deck. Their crew was really courteous and professional at every step."

-Jamie Bjorklund 11/19/20
Deck Rebuild Installation In Middleton, WI

"Matt was very good at explaining our options, offering solutions, and finally completing our beautiful deck. Matt and his crew were very professional and efficient throughout the entire project.  We would highly recommend 3rd Gen to anyone looking for a deck revision or rebuild."

-Toni Smart 6/5/19
Trusted Deck Builders in Madison WI
Looking for a local deck builder in Madison that can help design and build the outdoor space you've been dreaming of?
No question, 3rd Gen is Madison's most trusted deck builder and deck repair expert with an extensive track record of quality and amazing service that is impossible to match.
In fact, 3rd Gen has been rated the #1 best deck building company in Madison WI in 2021 on sites like Yelp, Houzz, & Thumbtack -and for good reason.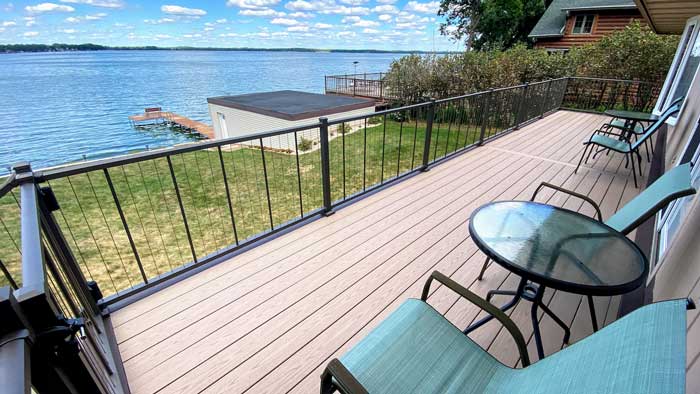 3rd Gen's deck building experts in Madison know the ins and outs of building beautiful decks. Our deck building crews have a professional eye for detail that ensures the quality of your new deck is top-notch.
Indeed, we only hire the best of the best when it comes to our deck-building team in Madison, WI. 3rd Gen's decking team are skilled artisans that go above and beyond for our Madison-area clients.
Call 3rd Gen Today To Get Your Free Deck Building Quote!
In addition, our decking crews are well-versed in the latest Madison building codes and construction zoning regulations. From pulling building permits to submitting deck plans, we will take care of every step of the deck building process from start to finish.
Eco-Friendly Trex Deck Builder
3rd Gen is the premier composite deck and Trex deck builder in Madison, WI.
In like manner, our decking craftsmen in Madison are Trex deck building experts that believe in creating an eco-friendly job site.
Furthermore, composite Trex decking is made of 95% recycled materials and lasts for years longer than a typical wood deck.
Certainly, choosing to build a beautiful new Trex deck or composite deck saves trees and is a more sustainable option than typical wood. Not to mention, composite decks are weather-proof and maintenance-free!
Did you know that 3rd Gen is a 100% eco-friendly deck installation contractor in Madison? 3rd Gen prides itself on being a green building contractor.
Accordingly, we've taken steps to incorporate green building standards in our operations including:
Sourcing Eco-Friendly Decking Materials (Trex & Azek Timbertech Composite)
Using Environmentally Safe Disposal Practices
3rd Gen Is An EPA Certified Contractor in the state of Wisconsin
Conservation and Recycling Supplies
Use Of Eco-Friendly HEPA Vacuums
Deck Builders Near Me Who Care
Next, our professional Madison deck builders know the value of open communication and customer support during the deck-building process.
Unquestionably, they are 100% committed to providing an incredible customer service experience during and after your deck is built.
Ultimately, you combine all of these attributes and it's no wonder 3rd Gen Deck Builders is Madison's top-rated decking contractor.
We'll make your next decking project turn out even more beautiful than you could have imagined!
Madison Deck Builders Committed To Quality
Our talented deck building crews here in Madison, WI pride themselves on being able to provide a level of quality and service that is rare in the deck building industry.
From day one, our deck-building team's goal is to exceed your expectations.
Consequently, we are so confident in the quality of our work that we offer a lifetime guarantee on our structural workmanship as well as a 30-year guarantee on most of our recommended composite decking materials.
3rd Gen's deck building crews are experts in structural deck installations, deck building codes, and deck inspections & safety. They are experienced professionals with an extensive track record of success and known for their attention to detail. Accordingly, our crews are master decking artisans that are passionate about creating your next outdoor living space.
From initial concept and design to the very final cleanup, our deck building team in Madison simply cares about your dream deck project as much as you do!
Call 3rd Gen Deck Builders Madison WI today at (608) 620-4680 or schedule your free deck inspection or deck building estimate online.
3rd Gen Deck Builders Madison WI
6922 East Pass APT 203
Madison, WI 53719
(608) 690-7323
Monday 7AM-8PM
Tuesday 7AM-8PM
Wednesday 7AM-8PM
Thursday 7AM-8PM
Friday 7AM-8PM
Saturday 7AM-8PM
Sunday 7AM-8PM
A Fully Licensed and Insured Decking Contractor
3rd Gen Deck Builders Madison WI is a bonded, licensed, and insured deck builder in Madison, Wisconsin. 3rd Gen carries a $2,000,000 liability insurance policy and full Worker's Compensation to protect you and your property in any circumstance.
Our Services Include:
Wood Deck Building
Composite Deck Building
Deck Resurfacing & Refinishing
Custom Deck Builds
Deck Design Services
Pergola Building
Three Seasons Rooms
Patios & Porches
4-Seasons Rooms
Most Popular Neighborhoods:
Madison, Wisconsin
Regent, Dudgeon-Monroe
Fitchburg
Verona
Middleton
Monona
West Middleton
McFarland
Oregon, WI
Waunakee
Sun Prairie
Stoughton
Additional Home Improvement Services Offered By 3rd Gen:
A Local Madison, Wisconsin Company
Located in Dane County, Madison is the capital city of the state of Wisconsin. Situated west of Milwaukee, the heart of the city is located on an isthmus between two lakes, Monona and Mendota.
Likewise, popular destinations include the Henry Vilas Zoo, the Wisconsin State Capital building, and the Capital City State Trail.
The city of Madison is also home to the University Of Wisconsin-Madison, one of the top universities in the United States.
Nearby Madison suburbs include Fitchburg, Monona, Sun Prairie, Verona, Middleton, McFarland, and Waunakee. Year after year, Madison is rated as one of the top cities to raise a family and is one of the Midwest's top cities for young professionals. Without question, we're proud to call the city of Madison our home!
Madison Decks and Designs
When it comes to composite decks in Madison, there are a few popular design choices that stand out. Likewise, the amount of deck color choices, deck brands, and deck designs can be overwhelming for most homeowners.
As one of Madison's top deck companies, we're here to help you through every step of the deck design process. Accordingly, we've put together this composite decking guide with our most popular deck styles to make it easy for you.
Timbertech Azek Composite Decking
By far, Madison's most requested composite decking brand is Timbertech Azek. This composite deck board is made from a solid PVC composite material with an extremely realistic wood grain look. Not to mention, Azek decks are one of the most durable composite products on the market and can withstand stains, scratches, mold, and board splitting over time.
Another thing we really like about Timbertech Azek decks is the 50-year limited warranty they carry on many of their products. Because of its durability, realistic texture, and warranty, we've found that Azek is the best quality deck building material you can buy.
Top Composite Decking Materials in Madison, WI
Let's start with the top picks for composite Timbertech deck floor colors in the greater Madison area. Azek Timbertech decking offers three design collections, Vintage, Arbor, and Harvest.
In Madison, Vintage is the most popular because it mimics traditional wood grain textures best. Additionally, the Vintage line by Timbertech seems to fit best within the architectural style of homes in Madison and greater Dane county.
Timbertech Decking Colors (Vintage Collection)
The three most popular deck color choices for composite decks in Madison within the Azek Timbertech Vintage collection are Mahogany, Dark Hickory, and Coastline. Indeed, each Vintage collection deck color offers a natural-looking style that works well with many different home types.
As a whole, this is a premium option when compared to other Azek offerings including their Harvest or Arbor collections.
Mahogany Composite Decking
Timbertech's Vintage Collection color, Mahogany, is a medium brown deck color with a hint of red and darker streaking.
As you can see above, this natural-looking composite decking color blends seamlessly with different shades of dark brown wicker deck furniture and white or black style railings.
Dark Hickory by Timbertech Azek
Another popular deck color from Timbertech's vintage collection is Dark Hickory. Another natural-looking composite deck shade, it works well as a dark contrast to vibrant deck furniture and lighter home styles.
Similarly, this darker Azek deck color adds a modern touch when combined with classic or historical home exteriors often found in Madison, WI. Lastly, we've seen that the most popular rail combo chosen with Dark Hickory is a brown aluminum composite railing.
Timbertech Coastline
The next most requested composite decking color is Coastline by Timbertech. This Vintage collection standout is a lighter gray decking color that still retains a natural wood look.
Moreover, this popular deck color contrasts well with white trim, risers, and railings. Likewise, it offers a modern coastal gray style perfect for a pool deck or balcony overlooking Lake Mendota or Lake Monona in Madison.
Picture Frame Composite Deck Styles
In terms of deck board layouts, most of our clients in Madison choose to picture frame their composite decking. When it comes to composite decks, picture framing is a layout where deck boards line the perimeter of a flooring area to form a block around your inlay deck boards.
No question, this popular deck floor style allows for a sleek and modern finish to your decking installation project. Simultaneously, picture framing your deck allows you to think "outside the box" in terms of color combinations.
As a result, the picture frame style gives you the custom design option of a beautiful-looking two tone decking color combination.
Two Tone Decking
A majority of the composite decks we build in Madison incorporate the picture-framed design described above. With this option, you can either choose to match the picture framing to the infill deck boards or opt for a two tone decking style.
Accordingly, a two-tone design creates a modern, sleek finish to your job. In fact, nearly 90% of homeowners that choose picture framing also opt for a two-tone deck design.
Notwithstanding, the two tone composite decking option gives your deck a custom-looking masterpiece you'll enjoy for summers to come.
In case you are overwhelmed with style choices, keep in mind that 3rd Gen's deck building team in Madison typically will guide you through all of these steps to make it easy.
Composite Deck Railings
Now that you have selected your composite deck board colors and design, you are ready to select your composite deck railings.
Many of our Madison area customers either try to match the picture frame floor color to the deck railing or opt for something similar.
However, you can use your deck railing selection as a contrast to your flooring choice as well.
Nonetheless, choosing a composite decking railing is simpler than choosing deck flooring as the selection is limited. When it comes down to it, most people choose black, dark bronze or white deck railings to coordinate with their composite boards.
Based on the Azek deck floor color you choose, the most common deck railing combinations include:
Mahogany with black railings
Dark Hickory with bronze railings
Coastline with white railings
Next, we'll explore the most popular choices for composite deck railing system products.
Timbertech Deck Railing
By far, the most popular railing products that Madison homeowners go with are Timbertech deck railings. Timbertech deck rail systems coordinate perfectly with most composite colors and add to the modern finish of your decking project.
Moreover, Timbertech offers two different deck railing system material options, aluminum, and composite.
Aluminum Railings (Timbertech)
The aluminum railing product line by Timbertech is named Impression Rail Express and offers three top rail options as well as three color choices. This low-maintenance aluminum railing option is popular among Madison homeowners and known as a sleek but durable deck railing system. In addition, it is both stain and scratch-resistant and carries a 25-year limited warranty.
As referenced above, Timbertech's aluminum rail offering comes in three colors: black, dark bronze, and white. Furthermore, you can choose a classic rail top, drink rail style, or a modern top rail design that has an updated boxed finish.
Composite Railing By Timbertech
Timbertech's composite railings are aptly named the Classic Composite Series. This simple and seamless composite railing is resistant to moisture, mold, fading, and staining over time. The composite railing itself is constructed with solid balusters and has thick walls which makes it extremely sturdy.
Not to mention, the powder-coated finish is corrosion resistant which increases the railing's lifespan. As a result, this durable deck railing holds up well to the heavy snow accumulation during the rough Madison winter season.
One additional feature of this very durable deck railing is that it's made from up to 50% recycled materials which is great for the environment. Similar to Timbertech's aluminum railing line, their composite railing system comes with a 25-year limited warranty. Currently, the composite rail has five different rail top shapes and only comes in black, white, and matte white.
Westbury Railing
A popular high-end deck rail option is the Westbury railing system. This elegant deck railing system is fade-resistant and offers a permanent finish that requires little to no maintenance. An additional key point is that Westbury railings are aluminum-based and carry a lifetime warranty.
Whether you are building a balcony or multi-level composite deck, Westbury's railings are powder coated for maximum longevity through treacherous Wisconsin winters. Available in twelve colors, the most popular rail top and baluster style is Westbury's Tuscany railing style.
Tuscany aluminum railings feature a classic two-rail design and come in a wide range of finish styles including satin, textured, and multi-colored finishes. Last but not least, Tuscany deck railing systems offer both rounded (C101) or squared (C10) rail baluster styles.
Our Process: Building Decks In Madison, WI
First, Tell Us About Your Deck Building Project
Typically, our clients begin the process by sending us a short message describing their deck-building project in Madison.
Next, Schedule Your Free Estimate or Deck Inspection
Matt or Alex will schedule a time to walk around the project site together and inspect any existing decking structures with you. During which, you can describe any decking ideas you may have and decking materials that you may want to use.
Additionally, they will show you what is possible in regards to your deck and may be able to give you a rough ballpark on pricing.
Lastly, we will send you a detailed deck building quote within the next few days (don't worry, you can request changes to the proposal as needed before approval).
After That, Deck Design and Material Selection
We will meet with you before your project to go over material options, colors, and fixtures. During this step, we can provide a rough mock-up of your deck building project along with project scheduling details.
This step also includes pulling permits and submitting the plans to our local Madison deck building department.
Lastly, we will prep the worksite. More specifically, this includes taking apart existing structures as needed and outlining the new deck area. Followed by an inspection of underground utilities, removing sod, preparing the soil, and digging holes for footings.
Last, Let's Build Your Dream Deck in Madison!
This is where your dream deck for your home starts to become a reality!
At the beginning of this step: we will set footings, secure the beams, posts, and footers to build the deck framing and supports.
No doubt, your decking project will really start coming together as we install the joists, secure the deck floor boards, and start trimming the decking.
Next, we will install any remaining items on your deck building checklist including:
Deck railings and trim
Deck Stairs and Landings
Benches & Planters
Trellises, skirting, and Privacy Fencing
Pergolas or Sunshade Installation
Custom lighting and Decor
What follows is a full cleanup of the job site. Don't forget, we dispose of all demo materials and recycle excess supplies if possible. Not to mention, we can also stain, paint, or seal the deck at this point if it's ready for coating.
Finally, a final walk-through will be performed with you to ensure you are 100% satisfied with the workmanship of your brand new deck!
Composite Decking vs Wood Decking
You have probably heard of composite decking by now but what is truly the best decking material to use for your next job?
Next, we separate fact from fiction when it comes to comparing wood decking vs composite decking.
To help you make the best decision for the surface of your deck, we're going to walk you through the differences between composite and wood decking. We'll analyze the pros and cons of each so you can feel confident with your choice! Let's get started!
Composite decking is a bit newer to the market and has been lauded as the ultra-durable maintenance-free decking material of the future.
In basic terms, composite decking is just how it sounds… It's a hybrid material made using both ground-up wood and plastic.
Because of the plastic elements, it has many benefits and drawbacks that wood does not:
Composite Decks Benefits
A little cheaper to build because the material cost is lower.
You can change the color & finish of the deck as often as you'd like using stain or paint
Replacing damaged boards is rather easy (although staining to match the rest of the wood on the deck is a different story)
Composite Decking Drawbacks
A bit more expensive than wood decking
Certain liquids may cause blemish spots (spray-on sunscreen or bug spray)
Replacement deck boards or fixtures may be hard to find down the line
The two main types of wood decking are pressure-treated lumber & cedarwood decking; however, other hardwood options are available at a higher cost such as redwood, IPE, or bamboo.
These types of decks have definitely been around the longest and you have surely seen them around your neighborhood.
Regardless of the type of wood, the pros and cons are about the same:
Pros of Wooden Decks
Slightly cheaper to build because the material cost is lower
You can change the color & finish of the deck as often as you'd like using stain or paint
Replacing damaged boards is rather easy (although staining to match the rest of the wood on the deck is a different story)
Cons of Wood Decks
Wood wears, weathers, and warps over time
You must stain, paint, or reseal your wood deck every 2-5 years
Costly wood rot can occur if the deck is not maintained
Wood is now very expensive compared to years ago