Best Madison Deck Builders
3rd Gen Deck Builders Madison, WI
Let's Build Your Outdoor Oasis
Our 3rd Gen deck builders in Madison, WI are passionate about building beautiful decks alongside an amazing client experience. We treat every client the way we'd want to be treated. This means setting clear expectations, doing what we say we're going to do (when we say it), getting back to our clients quickly, respecting your property, & always doing the right thing.
As you scroll through this page, you'll see that every step in our process was designed with you in mind. We'll listen to your needs so we can help you design the deck of your dreams. From drafting the most functional floor plan & choosing the best deck materials to finishing your build with a quick power wash, we're with you every step of the way. We take pride in being the best Madison deck builders (and yes, we're pridefully biased).
Call (608) 690-7323 today to get your free deck, porch, or 3-season room estimate!
Madison Deck Builder Reviews
Custom Deck Building Review Fitchburg, WI

"Product quality and workmanship is excellent. I had a two level deck replaced and the workers went over it every step of the way. The owner, Matt, responded to all my questions within a day, sometimes within an hour. I've done a lot of remodeling and have never had that level of customer service." – Donna R.
Composite Decking Project In Madison, WI

"3rd Gen removed our wooden deck, and replaced it with a larger composite deck and pergola. They were responsive, guided us toward the look we wanted, and built a beautiful deck. Their crew was really courteous and professional at every step." – Jamie B.
Deck Rebuild Installation In Middleton, WI

"Matt was very good at explaining our options, offering solutions, and finally completing our beautiful deck. Matt and his crew were very professional and efficient throughout the entire project.  We would highly recommend 3rd Gen to anyone looking for a deck revision or rebuild." – Toni S.
Our Deck Building Process
STEP 1: Tell Us About Your Deck Building Project
If you live in the Madison area, begin the process by sending us a short message describing your deck-building project. Whether you know exactly what you want your composite deck to look like or are just getting started, we're excited to hear from you!
STEP 2: Schedule Your Free Estimate or Deck Inspection
One of our trusted deck experts (Matt or Alex) will work with you to schedule a time to walk around the project site together. Already have a deck? We can inspect any existing decking structures to provide honest feedback regarding recommended repairs or replacements. Starting from scratch? We're elated to explore all the possibilities with you. Let us know if you have any specific decking ideas or preference on decking materials. Otherwise, we'll walk you through our favorite options for high-quality composite decking brands that last!
We can also show you what might be possible in terms of layout & provide a rough ballpark on pricing, all while keeping your budget in mind! Within just a day or two, we'll send you a detailed deck building quote. If you have any questions about your deck project, we'll happily take the time to answer each of them so you can feel confident moving forward! After all, this is your home… we want you to LOVE the final result. We're building an outdoor oasis, remember?
STEP 3: Deck Design and Material Selection
While our talented deck builders gear up to start your project, our rockstar production coordinator, Autumn, will meet with you to finalize material selection, colors, and fixtures. During this step, we'll remind you of what you can expect during your deck building project along with project scheduling details.
This step also includes pulling permits and submitting the plans to our local Madison deck building department.
When it's time to start your project, we'll prep the worksite. More specifically, this includes taking apart existing structures as needed and outlining the new deck area (taking extra care around any underground utilities). Because we use top-quality materials in every step of your deck build, we don't have to dig massive holes for footings. Using Diamond Piers, we'll disrupt less of your lawn… and we get to build year-round (even when the ground is frozen)!
STEP 4: Let's Build Your Dream Deck in Madison
This is where we make your dream deck a reality… At the beginning of this step, we'll set your footings (using Diamond Piers), secure the beams, posts, and joists to build deck framing that lasts.
Then, we'll secure the deck floor boards & if we're using our favorite composite decking material, we will use special hidden fasteners to cover any unsightly screws and give your deck a finished look.
To make sure your new space is as safe as it is gorgeous, we'll install any remaining items on your deck building checklist including: railings, stairs, fascia, benches, planters, skirting, lattice, pergolas, & custom lighting.
Remember how we said we treat our clients the way we want to be treated? That includes picking up our mess. We'll dispose of all demo materials & recycle excess supplies if possible. If your new deck is dirty from our work boots, we'll also power wash it so all you have to worry about is what kind of furniture you're going to put on it!
If your new structure is made of wood, we can also stain, paint, or seal the deck at this point if it's ready for coating.
A final walk-through will be performed with you to ensure you are 100% satisfied with the workmanship of your brand new deck!
3rd Gen installed our deck over the winter, something I didn't know was even possible. They had minimal delays after snow storms & on severely cold days, but they kept in close communication & worked every day it was feasible. The deck is beautiful. They totally met my every expectation.
Thank you for our new deck! We're so happy to have a maintenance-free deck with long lasting materials.
Working throughout the hottest week of the summer, Eric and Johnathan got everything done AHEAD of schedule! Truly impressive.
Check Out Our Latest Deck Builds
Wanna see more of our work? We get it. HGTV has turned us all into before & after fanatics. Head on over to our porfolio to see some of our favorite composite deck build projects in Madison. We'll even tell you what materials were used so you can start to get some inspiration for your own outdoor space.
Eco-Friendly Composite Deck Builder
Did you know that our favorite brand of composite decking is made with 60-85% recycled material? In fact, AZEK / TimberTech has prevented 500 million pounds of waste from ending up in landfills.
Instead, they use things like old PVC pipes, construction debri, & even laundry detergent jugs to create their decking products, which end up outlasting traditional wood decks! If you want to learn more about AZEK's Full Circle plan, watch the video below…
3rd Gen is proud to partner with companies like this who are making an effort to create building products that are both sustainable & high-quality.
Within our own business, we make an effort to build responsibly by:
sourcing sustainable decking products (such as AZEK / TimberTech & Trex)
minimizing deck board cutoffs & construction waste
becoming EPA certified contractors in Wisconsin
recycling materials when possible
Our Favorite Maintenance Free Materials
Want to learn more about the maintenance free decking products we recommend to our clients? We put together an entire guide for you. Don't worry… if you're not one for deep research, our team will share their knowledge during your estimate to point you in the right direction. (Already have a product preference? That's fine too – just let us know!) But in the event you are curious about what we love (and why), our guide is worth checking out!
Trusted Deck Builders in Madison WI
Looking for a local deck builder in Madison that you can count on to design and build the outdoor space of your dreams?
Based on our sheer volume of 5-star reviews, 3rd Gen is Madison's most trusted deck builder and deck repair expert. We don't just talk the talk. We walk the walk. In fact, 3rd Gen has been rated the #1 best deck building company in Madison WI on sites like Yelp, Houzz, & Thumbtack!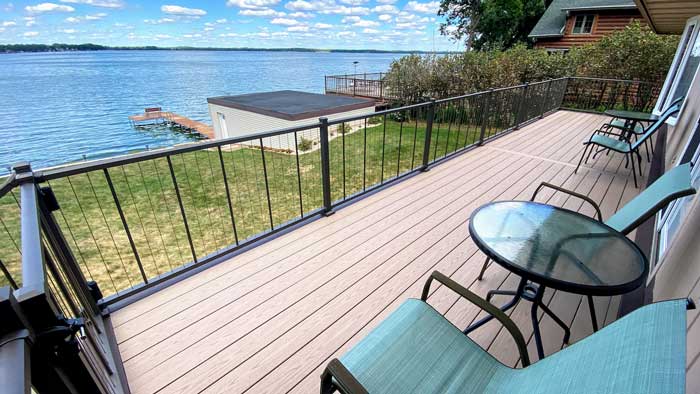 3rd Gen's deck building experts in Madison know the ins and outs of building beautiful decks & screen porches while delivering incredible customer service. Our deck building crews have a professional eye for detail that ensures the quality of your new deck is top-notch.
Lastly, our decking crews are well-versed in the latest Madison building codes and construction zoning regulations. From pulling building permits to submitting deck plans, we will take care of every step of the deck building process from start to finish. You can rest assured your deck will be built safely and made to last!
Deck Builders Near Me Who Care
Our professional Madison deck builders know the value of open communication and customer support throughout the design & build process.
This means taking the time to really listen to your needs and concerns every step of the way. It doesn't matter if we think cable railings and stair lighting would look really cool. If it's not in your vision, we won't make it part of the conversation.
It's our goal to help you design a deck you'll love within your budget. Not only do we offer a broad range of products to help us do that, we also have a lot of backyard design experience that allows us to give you creative options.
If you're looking for a Madison decking contractor that genuinely cares about their clients (and their craft), we'd love to chat.
3rd Gen Deck Builders Madison WI
6922 East Pass APT 203
Madison, WI 53719
(608) 690-7323
Monday 7AM-8PM
Tuesday 7AM-8PM
Wednesday 7AM-8PM
Thursday 7AM-8PM
Friday 7AM-8PM
Saturday 7AM-8PM
Sunday 7AM-8PM
A Fully Licensed and Insured Decking Contractor
3rd Gen Deck Builders Madison WI is a licensed and insured deck builder. We carry a $2,000,000 liability insurance policy and full worker's compensation to protect you and your property in any circumstance.
Our Services Include:
Wood Deck Building
Composite Deck Building
Deck Resurfacing & Refinishing
Custom Deck Builds
Deck Design Services
Screen Porches
Three Seasons Rooms
4-Seasons Rooms
Most Popular Neighborhoods:
Madison, WI
Regent, Dudgeon-Monroe
Fitchburg
Verona
Middleton
Monona
West Middleton
McFarland
Oregon, WI
Waunakee
Sun Prairie
Stoughton
Cross Plains
Windsor / Deforest
Additional Home Improvement Services Offered By 3rd Gen:
Madison Deck Builders Committed to Quality
Like we mentioned before, one of our team values is always doing the right thing. During the construction process (whether it be adding a screen porch or rebuilding a deck), unexpected issues may arise.
Some contractors may just look past them to stay on schedule. We take the time to educate you on what we found along with suggested solutions because we care about keeping you safe and building a structure that will last.
3rd Gen's deck building crews are expertly trained in structural deck installations, fine deck finishes, deck building codes, & deck inspections / safety. Our team truly cares about your dream deck as much as you do… No matter what kind of project we build for you, we know we're only as good as our reputation, so we're not done until you're happy!
A Local Madison, Wisconsin Company
We aren't some big, national company franchised here in Wisconsin. Madison is where our roots have been, and always will be, planted. It's where our company's owner, Matt, met his wife. It's where Saturdays get a little sweeter with the word "Badger" in front of them. And it's where our team feels blessed to call home.
If you've lived in Madison for any amount of time, you know it's a gem. It's the perfect blend of city with a small town community feel. It's the ultimate spot for foodies, avid bicyclers, boaters, and… well, we don't need to tell you, do we?
We are proud to serve our Madison neighbors & nearby Dane County suburbs (such as Fitchburg, Monona, Sun Prairie, Verona, Middleton, McFarland, and Waunakee). Next time you head to Google to search "deck builders near me," we hope you consider calling 3rd Gen!
Madison Decks and Designs
We know the amount of deck color choices, deck brands, and deck designs can be overwhelming for most homeowners. As one of Madison's top deck companies, we're here to help you through every step of the deck design process. Our team members have seen hundreds of composite decks in Madison go from quick sketches to stunning structures. They can help steer you in the right direction on color and material combinations that will coordinate beautifully with your home.
AZEK TimberTech Composite Decking
A lot of people come to us thinking they want a Trex deck. At the end of the day, we'll build whatever you prefer; however, if we're being honest, AZEK / TimberTech comes with much greater value for multiple reasons.
Because we really love talking about decks and decking materials, we created an entire guide to walk you through each of those reasons (along with some fun additions to consider for your deck). But remember… we don't need you to become a deck expert to reach out to us. Our team is here to educate and guide you every step of the way!
Pssst… in case you're curious what everyone else is loving, let's walk through some of the most popular TimberTech PVC and composite deck floor colors in Madison.
TimberTech Decking Colors (Vintage Collection)
The three most popular deck color choices for composite decks in Madison within the AZEK TimberTech Vintage Collection are Mahogany, Dark Hickory, and Coastline. Each Vintage Collection deck color offers a natural-looking style that works well with many different home types. As we mention in our maintenance free decking guide, AZEK Vintage is the most premium option in terms of aesthetic and quality.
TimberTech's Vintage Collection color, Mahogany, is a medium brown deck color with a hint of red and darker streaking.
As you can see above, this wood-mimicking PVC decking color blends seamlessly with different shades of dark brown wicker deck furniture and white or black railings. It truly is the perfect color for traditional or historic home exteriors often found in Madison.
Dark Hickory by TimberTech
Another popular deck color from TimberTech's Vintage Collection is Dark Hickory. It's dark, almost neutral tones make it a great pairing for most modern homes. It can also coordinate with most railing options beautifully.
Timbertech Coastline
The next most requested decking color is Coastline by TimberTech. This Vintage Collection standout is a lighter gray decking color that still retains a natural wood look.
The huge perk of this color is that it stays cooler than the two we mentioned above. Despite the fact that PVC and composite decking holds less heat than traditional wood, dark materials can still get warm. If your deck gets a lot of direct sunlight, it's important to keep that in mind while choosing colors.
Coastline is named perfectly in the sense that it's perfect for pool decks or balconies overlooking Lake Monona or Lake Mendota in Madison! As you can see, this popular deck color contrasts well with white trim, risers, and railings.
Two Tone Decking
All of the composite decks we build in Madison incorporate a picture framed style. This means the center deck boards are trimmed out with long boards around the edges to give it a more finished appearance as opposed to cut ends. With this option, you can either choose to match the picture framing to the infill deck boards or opt for a two tone decking style.
A two-tone design adds a little more visual interest and can be a great way to tie into the home's existing colors. As long as your colors come from the same decking material collection, opting for a two tone design doesn't cost any extra!
Feeling overwhelmed with all the style choices? Remember… our deck building experts will guide you through each and every decision. After all, this process is supposed to be fun!
Composite Decking vs Wood Decking
If you've made it this far, you've probably caught on to the fact that many of our clients opt for composite decks. But is there ever a case where using wood to build your deck makes more sense? If you're in Madison WI, just let one of our deck building experts walk you through the decision personally. Otherwise, read on!
To help you make the best decision for the surface of your deck, we're going to walk you through the differences between composite and wood decking. We'll analyze the pros and cons of each so you can feel confident with your choice!
Composite decking is a bit newer to the market and has been lauded as the ultra-durable maintenance-free decking material of the future.
In basic terms, composite decking is just how it sounds… It's a hybrid material made using both ground-up wood & plastic.
Because of the plastic elements, it has many benefits and drawbacks that wood does not:
Composite Decks Benefits
More cost-effective over time because it doesn't require regular staining or sealing.
Resists moisture better, so there's less warping or rotting.
Doesn't scratch as easily.
Allows for a more uniform, finished look.
Composite Decking Drawbacks
Initial cost to build is a bit higher.
Aerosol sprays can stain the boards – so avoid applying these types of sunscreen / bug spray on your deck!
Replacement boards may be difficult to match decades down the road.
The two main types of wood decking are pressure-treated lumber & cedar decking; however, other hardwood options (such as redwood or ipe) are available at a higher cost.
These types of decks have definitely been around the longest & you've likely seen them around your neighborhood.
Regardless of the type of wood, the pros and cons are about the same:
Pros of Wooden Decks
Slightly cheaper to build because material cost is lower (if not using specialty lumber).
Able to change color as you please using stain & paint.
Replacing damaged boards is rather easy (but staining to match the rest of the wood on the deck is a different story).
Cons of Wood Decks
Wood wears, weathers, and warps over time.
You must stain, paint, or reseal your wood deck every 2-5 years, which quickly adds up.
Costly wood rot can occur if the deck is not maintained.
Wood is now more expensive compared to years ago.
Typically, we only recommend wood over composite if you plan to sell your home in the next couple of years or if composite is just out of your initial budget. Because the dollar for dollar ROI on a wood deck is said to be about 5% higher than a composite deck when reselling, if you don't plan to stick around (& don't have to deal with the regular maintenance), wood may be the way to go. Though for a prospective buyer, already having a beautiful composite deck might be a nice perk…
In just about every other circumstance, our team is very pro composite. Curious exactly which composite decking materials we like best? Check out this guide for more info…